sandwich Panel
1. Introduction
Kam Chung sandwich panel is a new building material composed of calcium silicate panel, Portland cement and EPS foam. Compared with traditional brick wall, it is light in weight and can save a lot of construction space. Besides, it is waterproof, soundproof, weatherproof and fire-rated, which makes it versatile in applications.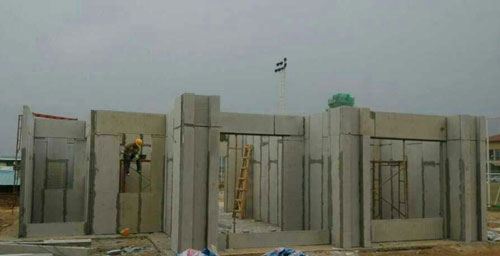 (for house - interior and exterior wall)
2. Application
Kam Chung sandwich panel could be used as interior partition wall for apartment, office, factory, residential complex, shopping mall, KTV center, refrigerated storage etc. It's excellent for buildings with special requirements on sound and temperature. Also its advantages of light weight and weather resistant make it a good exterior wall for warehouse, bungalow, temporary house, labor house, security guard room and so on.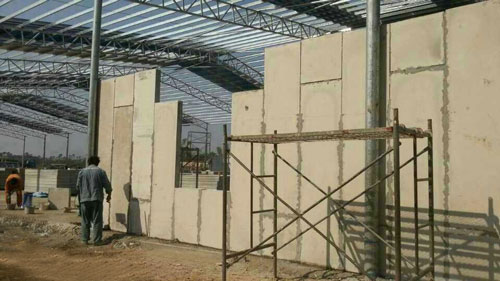 (for outdoor wall panel - big factory project)
3. Specifications
Size (mm)

2440*610, or on request

Thickness (mm)

50

75

100

125

Bend Resistance Load (multiple of panel self weight)

≥1.5

≥3

≥4

≥5.5

Fire Endurance (Hour)

≥1

≥2.5

≥4

≥4.5

Sound Reduction Index (dB)

≥35

≥37

≥42

≥47

Moisture content (%)

≤10

≤10

≤8

≤8

Hanging Load (N)

≥1000

Shock Resistance (times)

≥5

Dry Shrinkage Rate (mm/m)

≤0.5

Thermal Conductivity (W/m·K)

≤0.2

Asbestos & Toxic Materials

None

Non- combustibility

GB 8624-2006 Class A

Water Penetration

No drop of water on the other side
4. Advantages
(1). Fireproof
(2). Insect-free
(3). Waterproof
(4). Soundproof
(5). Light weight
(6). Long lifespan
(7). Space saving
(8). Energy-saving
(9). Easy installation
(10). Environment-friendly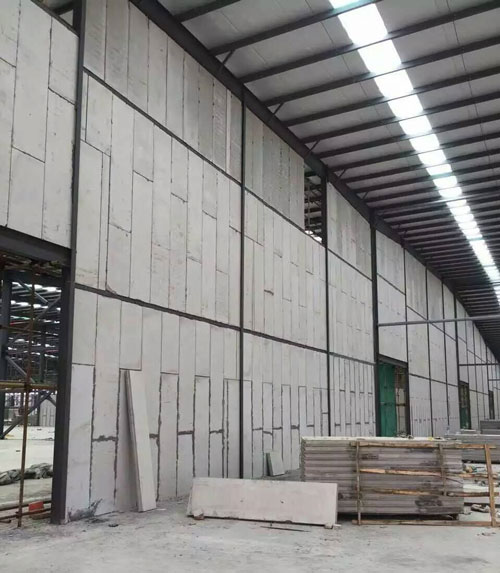 (for indoor Wall panel)
5. Installation Processes for sandwich Panel
(1). Draw lines on wall and floor according to drawing plan.
(2). Cut Kam Chung sandwich panels into suitable sizes with a circular saw.
(3). Mix cement and sand (ratio 1:2) and make it starchy. Then wet panels' sides which are to be connected and put cement mixture on them.
(4). Fix the panels according to drawn lines and keep them upright. Use a jimmy to move the panels from bottom and make them tightly connected to each other.
(5). Push panels so as to again make sure they are tightly combined and squeeze out the cement mixture from connecting joints. Then use wedges to fix them.
(6). Use a 2-meter long guiding rule to check the flatness and perpendicularity of panels. Adjust them with a jimmy and fix them with wedges and steel bars.
(7). All joints between two boards must be reinforced with steel bars in size 6*200mm at 45 degree angle.
(8). After adjusting panel connections, use 30*30mm wedges to fix them. Then use a drill to make holes through panels and floor at a 45 degree angle. Hammer 6*200mm steel bars into the holes to tightly fasten panels on the ground.
(9). When adjusting and fixing are finished, fill all joints with cement mixture, including those connected with ceiling and floor. Pull out the wedges and stuff the holes with cement mixture.
(10). If embedded channels are needed, use a circular blade to cut on panels and cover them with cement mixture once embedding is finished.
(11). Last step is to cover the walls if necessary. Wallpaper can be pasted, wood plate nailed and ceramic tiles directly stuck on them with cement mixture. Door and windows could be fixed right on them as well.